Release 2.2 (September 2020)¶
Below are the highlights of this release:
Additional connectors are now placed in our assembly under server/lib without dependencies. If you need to use a connector that requires additional dependencies that are not already part of the server chassis, you will need to add those libraries here.
The docker image has been updated to use a later openjdk alpine base image due to incompatibilities with our JanusGraph support in the old images for java 8.
In the VDC chart, 2 new values have been added, 'ibmigc.connectorversion' and 'atlas.connectorversion'. In this release these are set to use the 2.1 connectors, since the connectors run to a different release cycle than the main Egeria code. Once new connectors are released you can update these values to get the latest connectors
Further code to support lineage has been added, but in this release it remains in development and is not yet ready for use in production.
User interface improvements.
Ongoing bug fixes and refactoring especially in subject-area omas.
Known Issues¶
In the VDC helm chart, the Apache Atlas initialization job fails to complete. This is due to a problem with the Apache Atlas server and Apache SOLR. See https://github.com/odpi/egeria/issues/3587 for more information.
Dependencies¶
Spring Boot is updated to 2.3.3.
Egeria Implementation Status at Release 2.2¶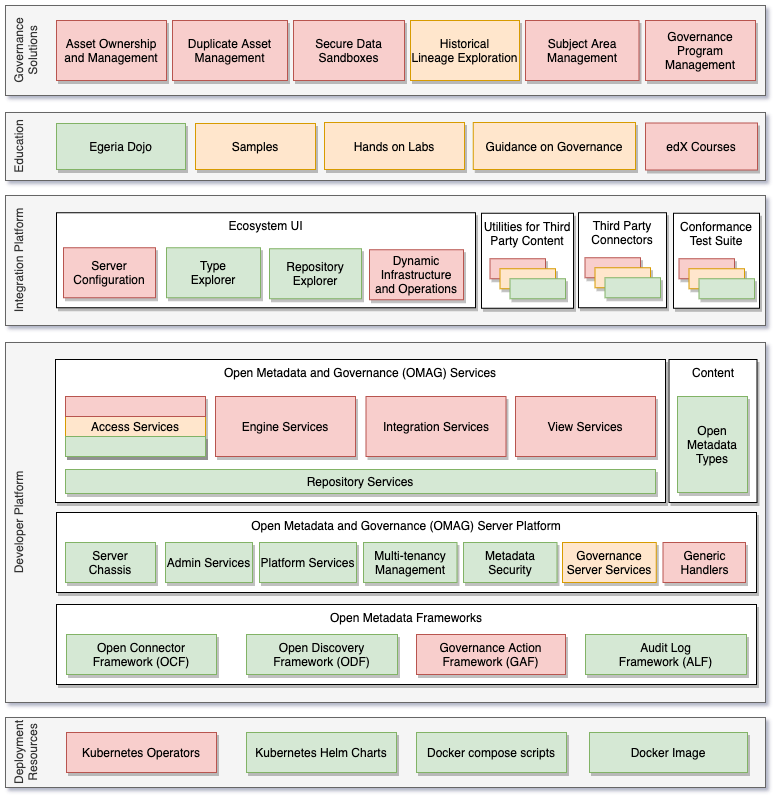 Link to Egeria's Roadmap for more details about the Open Metadata and Governance vision, strategy and content.